Sometimes we need to decrypt the BitLocker Encrypted Drive partition in Windows 11/10/8/7 Home & Windows 7 Professional Editions. However, we cannot find the feature to decrypt the BitLocker encrypted drive in these editions of Windows, because Microsoft does not enable this feature in these editions of Windows. Fortunately, Hasleo BitLocker Anywhere has already implemented this feature. With this tool, you can easily decrypt volumes in these editions of Windows, and this article will help you explain how it works.



Tips:
Terminating the program, removing the drive or abnormal power off during decryption will result in data corruption.
Tutorial to Decrypt BitLocker Encrypted Drive in Windows 11/10/8/7 Home & Windows 7 Pro Editions.
Step 1. Download and install Hasleo BitLocker Anywhere.
Step 2. Launch Hasleo BitLocker Anywhere, right-click the drive letter you want to decrypt, then click "Turn off BitLocker".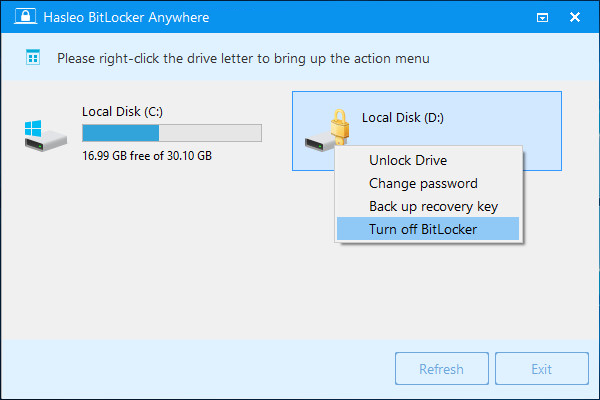 Step 3. Enter the password or recovery key, then click "Next".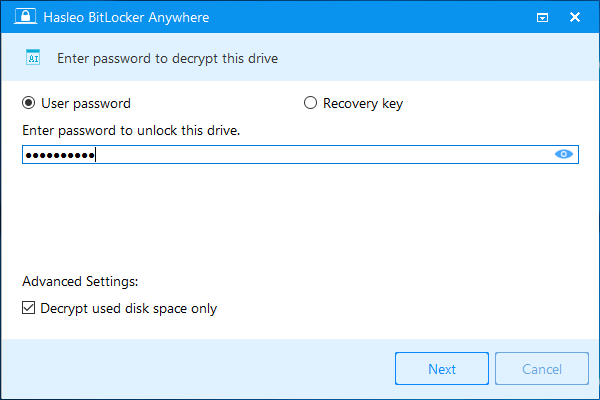 Decrypt used disk space only: Allows you to decrypt only the disk space that is currently used by the drive file system, this option can help you save time spent on decryption.
Step 4. Hasleo BitLocker Anywhere will now decrypt the contents of the selected drive using BitLocker drive encryption. The decryption process could take a long time to finish depending on the size of the drive, so please be patient to wait. If you don't want to wait until the decryption operation is finished, "Shut down the computer when the operation is completed" option is a good idea. Just check it.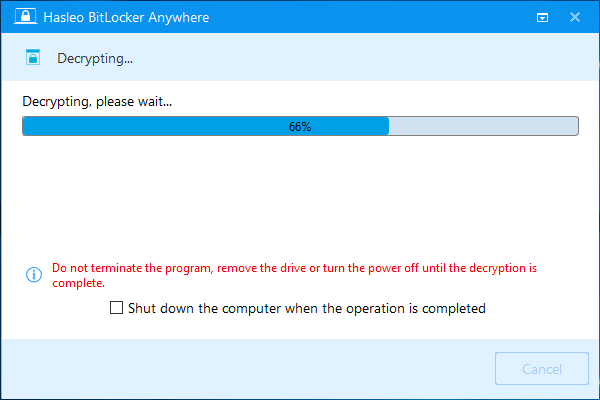 Step 5. After the decryption is complete, click the "Finish" button to close the window.