I used to use BitLocker in my company, so I know that BitLocker can be used to encrypt disks to protect our data on Windows operating systems. Recently I wanted to encrypt a partition that contained some important personal files, but it was very strange that I can not find BitLocker anywhere on my home computer that running the Winows Home 10 Edition. I googled and found that BitLocker is not available in the Windows Home Edition. Is there any alternative software that can encrypt partitions with BitLocker?
BitLocker is a full disk encryption tool provided by Microsoft, unfortunately it is not available in Windows 11/10/8/7 Home Editions. So many Windows home users choose to use third-party disk encryption software TrueCrypt, unfortunately TrueCrypt suddenly announces that it is not safe and recommends that users use BitLocker instead of themselves, many users have to return to BitLocker. Because the encryption technology of BitLocker is very complex, you can't find any BitLocker alternatives until Hasleo BitLocker Anywhere comes up. After analyzing the BitLocker encryption partition hundreds of times, the developers of Hasleo finally implemented the encryption algorithm, which is fully compatible with the Windows BitLocker encryption algorithm. Hasleo BitLocker Anywhere mainly includes the following features:
✦ 1. Encrypt Windows C: drive or Data Partitions with BitLocker
✦ 2. Decrypt BitLocker Encrypted Drives
✦ 3. Change Password for BitLocker Encrypted Drives
✦ 4. Export BitLocker Recovery Key & Startup Key
✦ 5. Easily Lock & Unlock BitLocker Encrypted Drives
As you can see from the above description, Hasleo BitLocker Anywhere implements almost all features of Windows BitLocker device encryption, I have to say it is the best BitLocker alternative for Windows 11/10/8/7 Home Editions available on the market.
Tutorial to encrypt drive with the best BitLocker alternative Hasleo BitLocker Anywhere in Windows 11/10/8/7 Home Editions.
Step 1. Download and install Hasleo BitLocker Anywhere.
Step 2. Launch Hasleo BitLocker Anywhere, right-click the drive letter you want to encrypt, then click "Turn On BitLocker".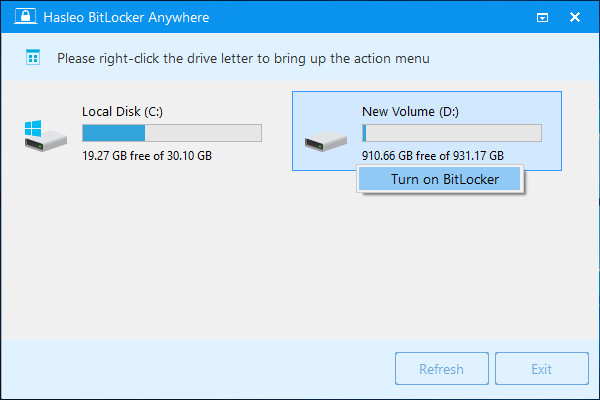 Step 3. In this step, you are required to specify a password for encrypting the drive, enter the password and click "Next". You should choose a password having a combination of upper and lower case letters, numbers, spaces, and special symbols. Once the encryption is complete, you can access the drive using this password.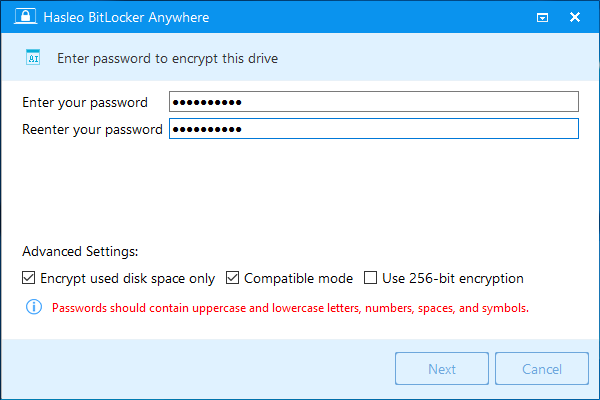 Step 4. Back up BitLocker recovery key, then click "Next" to move on. You can save the recovery key to a file or print a copy of it. Please note that anyone can use the recovery key to gain access to the drive, even if they do not know the password entered in the previous step, so please do not disclose it to others.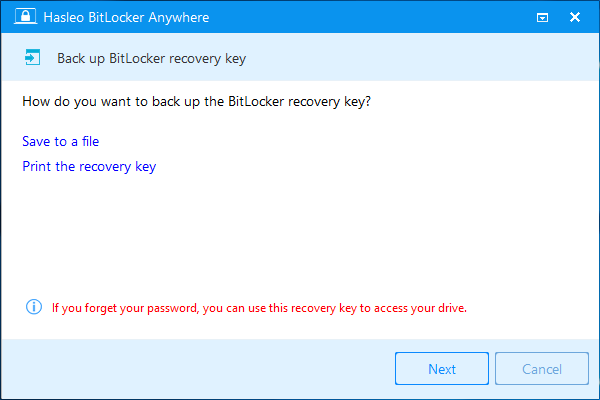 Step 5. Hasleo BitLocker Anywhere will now encrypt the contents of the selected drive using BitLocker drive encryption. The encryption process could take a long time to finish depending on the size of the drive, so please be patient to wait. If you don't want to wait until the encryption operation is finished, "Shut down the computer when the operation is completed" option is a good idea. Just check it.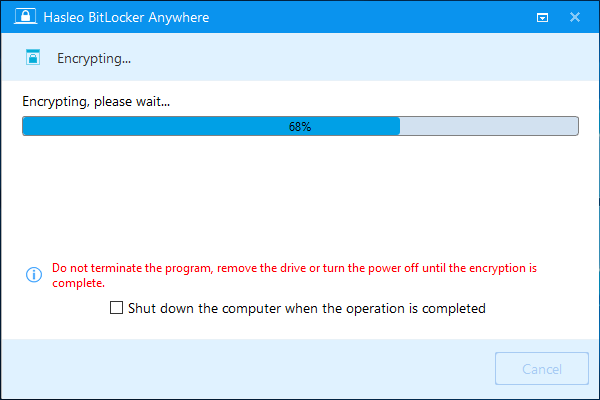 Step 6. After the encryption is complete, click the "Finish" button to close the window.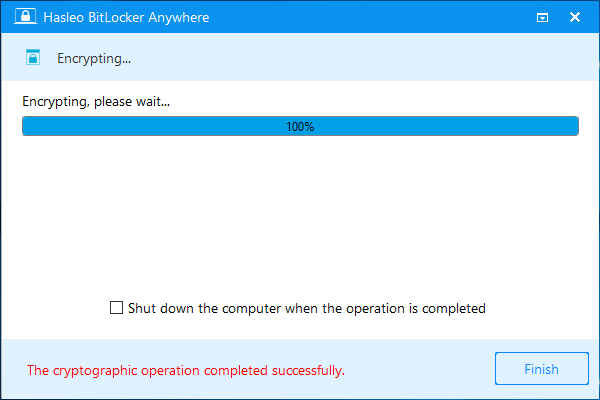 As the Best BitLocker Alternative for Windows 11/10/8/7 Home, not only can you use Hasleo BitLocker Anywhere For Windows to encrypt drives with BitLocker, but you can also use it to decrypt BitLocker encrypted drives, change password for BitLocker encrypted drives, and so on.