On this page, you'll learn:
TrueCrypt was suddenly shut down
After the TrueCrypt project suddenly announced the discontinuation of the development and maintenance of TrueCrypt, IDRX developed VeraCrypt based on TrueCrypt 7.1a. VeraCrypt adds enhanced security to the algorithms used for system and partitions encryption making it immune to new developments in brute-force attacks. VeraCrypt also solves many vulnerabilities and security issues found in TrueCrypt. Even so, its security is suspected by many users, because VeraCrypt is developed based on TrueCrypt source code, and the reason why TrueCrypt stopped developing is for security reasons. If you read here and you're using VeraCrypt, do you have the same concerns? Are you also planning to find the best VeraCrypt alternative for Windows to protect your data in Windows 11/10/8.1/8/7 Home & Windows 7 Pro? We know that when the TrueCrypt was declared closed, the user was recommended by the developers of TrueCrypt to encrypt the drive using Microsoft's BitLocker Drive Encryption, so BitLocker can be used as an VeraCrypt alternative.
Best VeraCrypt Alternative in Windows Home - Hasleo BitLocker Anywhere
BitLocker is a Windows built-in full disk encryption software that can help you encrypt your drive to protect your data. If you trust Microsoft and need to encrypt the drive, we think BitLocker is the best VeraCrypt Alternative in Windows. The only regret is that BitLocker's partition encryption feature is not available in the Windows 11/10/8.1/8/7 Home & Windows 7 Pro. If you are currently using Windows Home or Windows 7 Pro, you will have to use a third-party BitLocker solution, here we recommend you to try Hasleo BitLocker Anywhere. Hasleo BitLocker Anywhere is the world's first third-party BitLocker solution that is fully compatible with Microsoft's BitLocker encryption algorithm and allows you to encrypt drives, decrypt drives, change passwords, and more in Windows Home & Windows 7 Pro Editions.
Tutorial to Protect Data with Best VeraCrypt Alternative Hasleo BitLocker Anywhere in Windows 11/10/8.1/8/7 Home & Windows 7 Pro.
Step 1. Download and install Hasleo BitLocker Anywhere.
Step 2. Launch Hasleo BitLocker Anywhere, right-click the drive letter you want to encrypt, then click "Turn On BitLocker".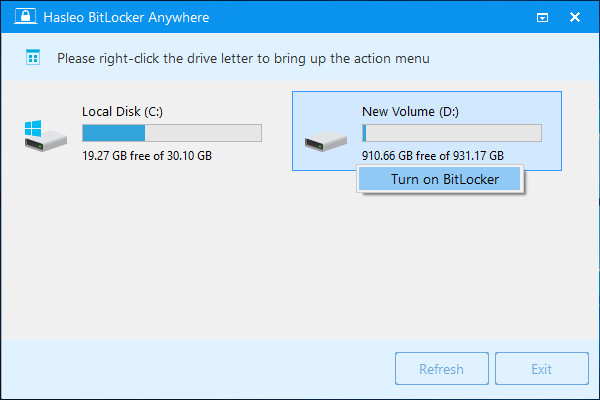 Step 3. In this step, you are required to specify a password for encrypting the drive, enter the password and click "Next". You should choose a password having a combination of upper and lower case letters, numbers, spaces, and special symbols. Once the encryption is complete, you can access the drive using this password.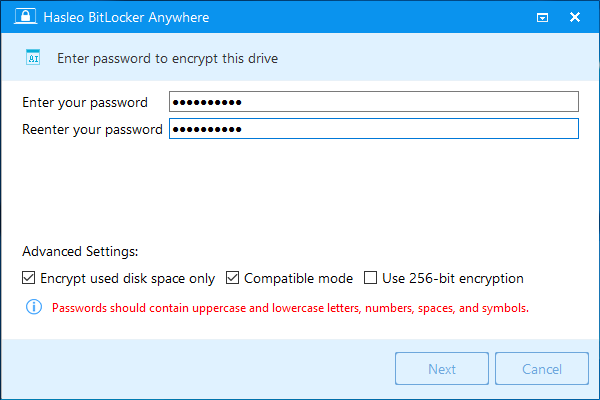 Step 4. Back up BitLocker recovery key, then click "Next" to move on. You can save the recovery key to a file or print a copy of it. Please note that anyone can use the recovery key to gain access to the drive, even if they do not know the password entered in the previous step, so please do not disclose it to others.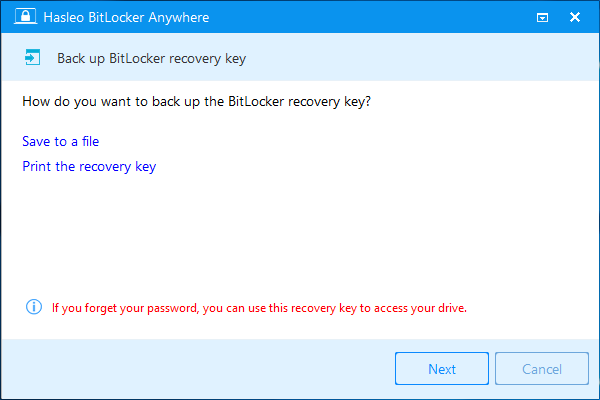 Step 5. Hasleo BitLocker Anywhere will now encrypt the contents of the selected drive using BitLocker drive encryption. The encryption process could take a long time to finish depending on the size of the drive, so please be patient to wait. If you don't want to wait until the encryption operation is finished, "Shut down the computer when the operation is completed" option is a good idea. Just check it.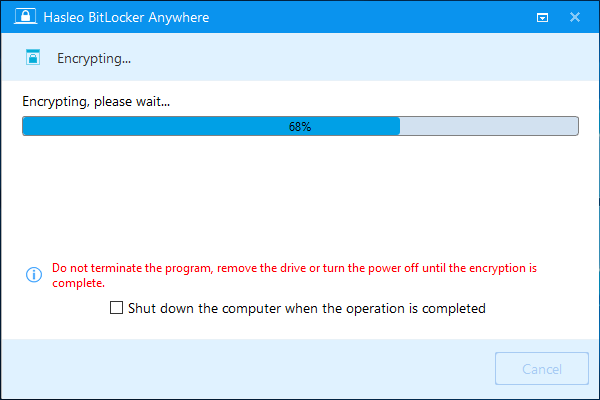 Step 6. After the encryption is complete, click the "Finish" button to close the window.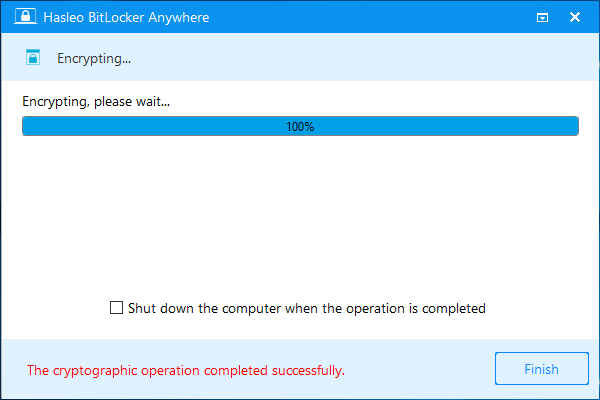 Conclusion
To sum it all up, Hasleo BitLocker Anywhere is the best TrueCrypt alternative for Windows, which can help you to encrypt your drive to protect data in Windows 11/10/8.1/8/7 Home & Windows 7 Pro, and it supports decrypting BitLocker encrypted drives, changing password for BitLocker encrypted drives, exporting recovery keys, etc.