The BitLocker password is the password you entered to encrypt the drive when you turn on Bitlocker Drive Encryption on that drive. This password is so important that anyone can access the data in the encrypted partition using this password, so sometimes we need to change the encryption password for data security. Here are some common reasons why we need to change the password for BitLocker encrypted drive:
The password is too simple.
The password is leaking abnormally.
Change password regularly to keep data safe.
What should we do if we want to change the password for a BitLocker encrypted drive in Windows 11/10/8.1/8/7 Home & Windows 7 Professional Editions one day? The answer is to use Hasleo BitLocker Anywhere and you can find detailed steps below.
Step 1. Download and install Hasleo BitLocker Anywhere.
Step 2. Launch Hasleo BitLocker Anywhere, right-click the BitLocker encrypted drive you want to change password, then click "Change password".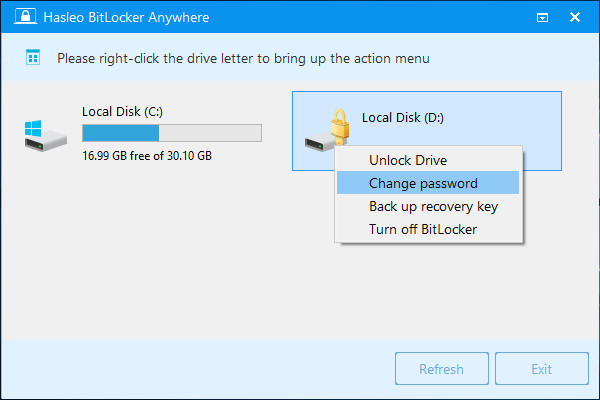 Step 3. Enter the old password or recovery key, followed by the new password (entered twice), and then click "Change" button to change password. In order to ensure data security, the new password should contain upper and lower case alphabets, numbers, and special symbols.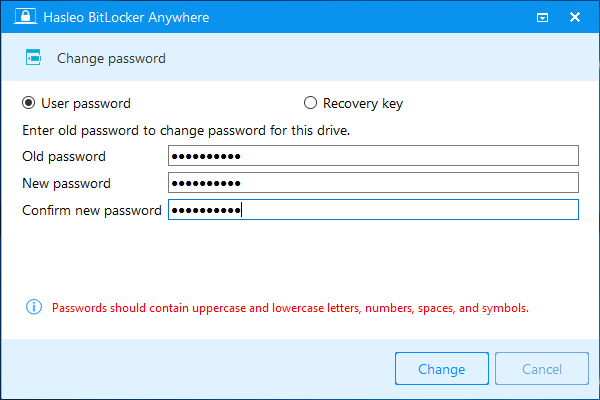 Step 4. When the program prompts that the password has been successfully changed, click the "Cancel" button to close the window.