Have you ever heard of General Data Protection Regulation (GDPR)? If you haven't then I recommend you get up to speed, GDPR is the biggest change to privacy and data protection laws since the Data Protect Act. GDPR is fundamentally about protecting and enabling the privacy rights of individuals, which was imposed throughout Europe on May 25, 2018. According to GDPR, organizations are required to obtain the consent of the user before collecting, storing and using personal information, and users have absolute control over their personal data no matter where data is sent, processed, or stored. The penalties for non-compliance are severe. Organisations that fail to comply could face substantial fines of up to 4% of global annual turnover or €20 million (whichever is higher) as well as suffer reputational damage, so it is necessary to understand the laws regardless of the organization or the individual. Unless you don't care about paying a fine of €20 million, GDPR could directly destroy your business.
How to effectively prevent the threat of devastatingly expensive fines for GDPR? According to GDPR, if a data breach has an impact on user privacy, the organization must report it to the relevant authorities within 72 hours. Failing to properly notify a breach to the supervisory authority can result in a significant fine, as summarized above. And according to Article 34 of GDPR, no notification is required if prior to the breach taking place, the data were rendered unintelligible, for example by means of encryption. Therefore, encryption is an easy and cost-effective way to take action against the threat of devastatingly expensive fines for GDPR.
In the Windows operating system, we typically choose to encrypt disks using BitLocker Drive Encryption because BitLocker is the full disk encryption software built into Windows and it is trusted by most Windows users. In Windows Server, Ultimate, Enterprise, and Windows 10 Professional editions, we can encrypt disks directly using the built-in BitLocker tools. Unfortunately, this tool is not available in Windows Home and Windows 7 Pro editions, so we can't encrypt disks with BitLocker in these editions of Windows. How to encrypt disks with BitLocker to meet GDPR Data Protection Officer Requirements? Here, we recommend that you use the three-party BitLocker solution Hasleo BitLocker Anywhere.
Tutorial to encrypt disks with BitLocker to meet GDPR Data Protection Officer Requirements by using Hasleo BitLocker Anywhere.
Step 1. Download and install Hasleo BitLocker Anywhere.
Step 2. Launch Hasleo BitLocker Anywhere, right-click the drive letter you want to encrypt, then click "Turn On BitLocker".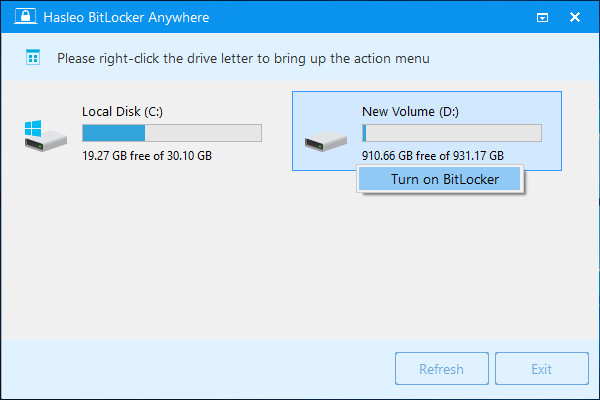 Step 3. In this step, you are required to specify a password for encrypting the drive, enter the password and click "Next". You should choose a password having a combination of upper and lower case letters, numbers, spaces, and special symbols. Once the encryption is complete, you can access the drive using this password.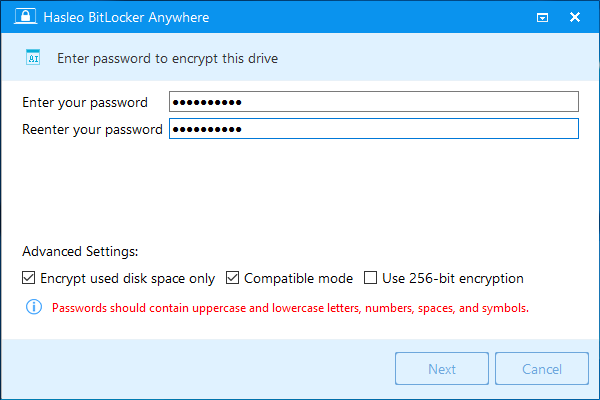 Step 4. Back up BitLocker recovery key, then click "Next" to move on. You can save the recovery key to a file or print a copy of it. Please note that anyone can use the recovery key to gain access to the drive, even if they do not know the password entered in the previous step, so please do not disclose it to others.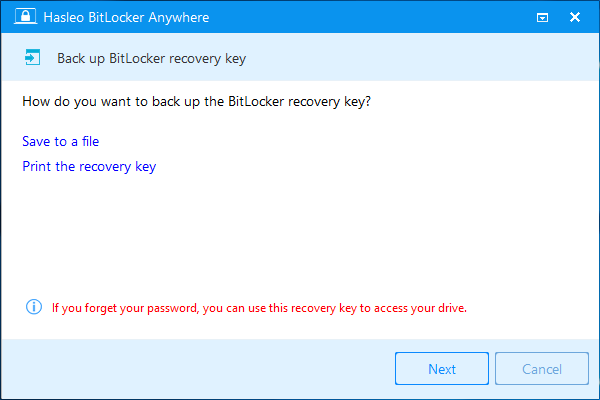 Step 5. Hasleo BitLocker Anywhere will now encrypt the contents of the selected drive using BitLocker drive encryption. The encryption process could take a long time to finish depending on the size of the drive, so please be patient to wait. If you don't want to wait until the encryption operation is finished, "Shut down the computer when the operation is completed" option is a good idea. Just check it.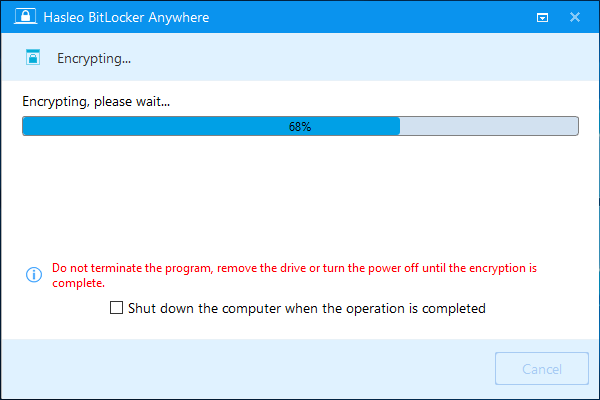 Step 6. After the encryption is complete, click the "Finish" button to close the window.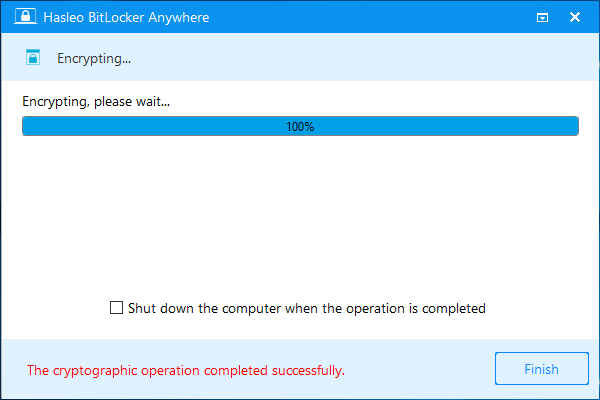 To sum it all up, Hasleo BitLocker Anywhere is a full disk encryption software which can help you encrypt disks with BitLocker to meet GDPR Data Protection Officer Requirements.