Windows 10 21H2 is also known as the Windows 10 November 2021 Update, it was released on November 16, 2021. As the latest version of Windows 10, it includes all features and fixes in previous cumulative updates to Windows 10 21H1. If you're using an earlier version of Windows 10 and want to experience Windows 10 21H2, but you don't plan to upgrade Windows 10 on your PC to Windows 10 21H2 right away, you can install Windows 10 21H2 onto a USB drive and try it out. Or you're looking for a way to create portable Windows 10 USB drive with Windows 10 21H2, then you've come to the right place.
Hasleo WinToUSB is a the world's first third-party Windows To Go creation software, with its help you can easily install or clone Windows 11, 10, 8 or 7 to a USB drive as a portable Windows. Below we will describe how to install Windows 10 21H2 to a USB drive using Hasleo WinToUSB as Windows 10 To Go.
Tutorial To Use Hasleo WinToUSB to Create Windows To Go with Windows 10 21H2 (Windows 10 November 2021 Update).
Step 1. Download Windows 10 21H2 installation ISO. We recommend that you go to Microsoft's official website to download the MediaCreationTool21H2.exe tool to downlaod Windows 10, here is the link: Download Windows 10 November 2021 Update.

Step 2. Connect the destination external hard drive or flash drive to the computer with an installed copy of Hasleo WinToUSB, then run Hasleo WinToUSB.
Step 3. Click the

button, then click the

button and select the Windows 10 21H2 installation ISO file download earlier from the open dialog box.
Step 4. Hasleo WinToUSB scans for and lists installable operating systems. If you see the edition of Windows you want to install, select it, then click "Next".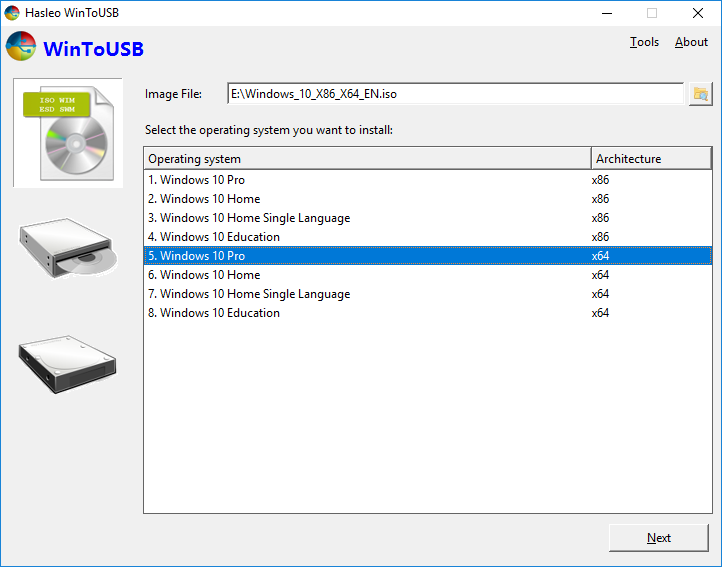 Step 5. Select the destination USB drive in the drop-down list. If the USB drive is not correctly recognized by Hasleo WinToUSB, you need to click the

button for the program to recognize the USB drive.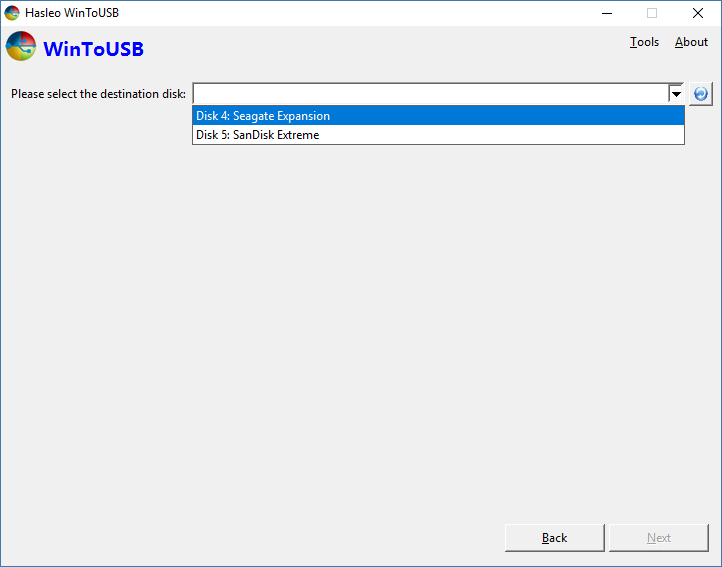 Step 6. A pop-up will appear asking you if you want to format it to continue, select the partition scheme you want to use and click "Yes" to format it. If you choose "Keep the existing partition scheme", you need to manually prepare the partitions on the USB drive before this step, and here is the user guide on how to manually prepare partitions for Windows To Go. Please note that the "Keep the existing partition scheme" option is valid only for an external disk.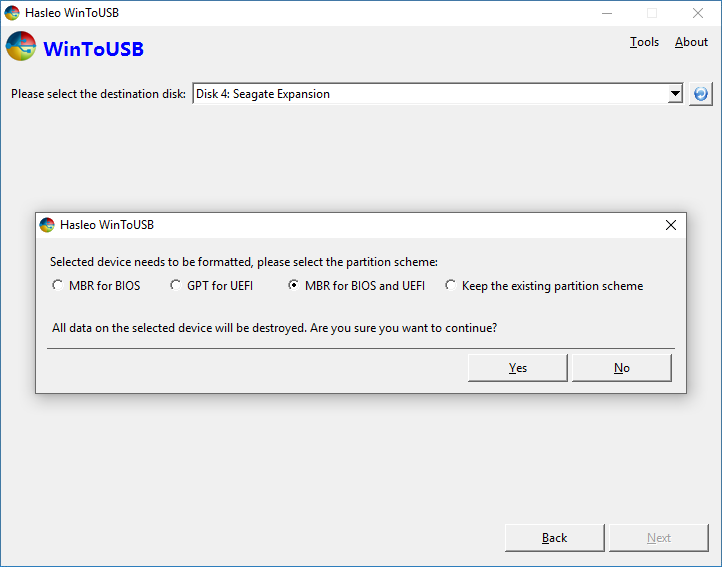 Step 7. Select the system partition and boot partition from the partition list, the selected partitions will be marked as red, then click "Next".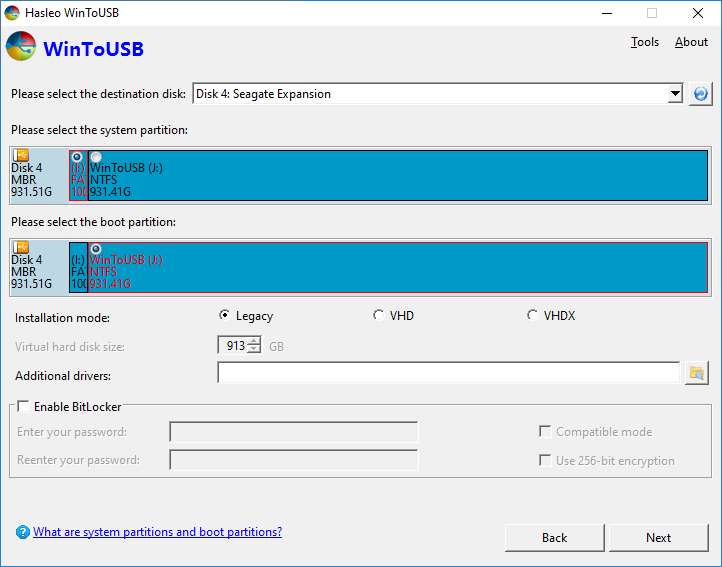 Here, you can encrypt Windows To Go with BitLocker by clicking "Enable BitLocker" and then entering the encryption password.
Step 8. After clicking "Next", Hasleo WinToUSB begins installing Windows.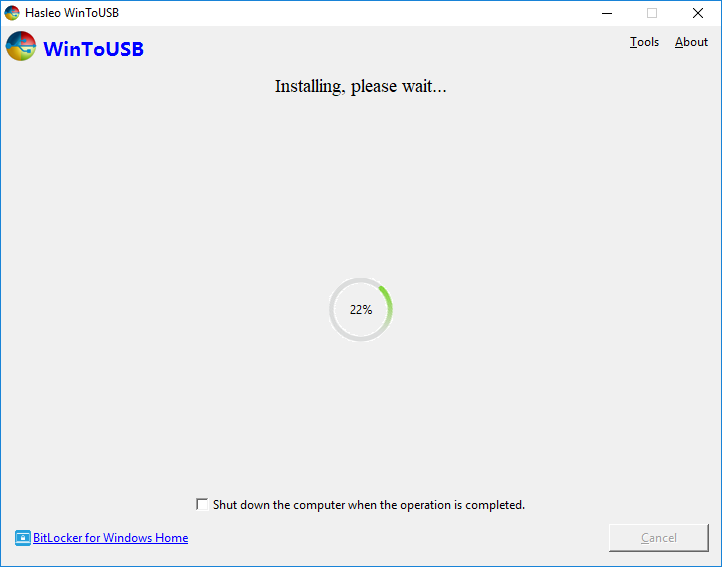 Step 9. It takes some time to install. After installation restart the computer and change BIOS to boot from your USB drive.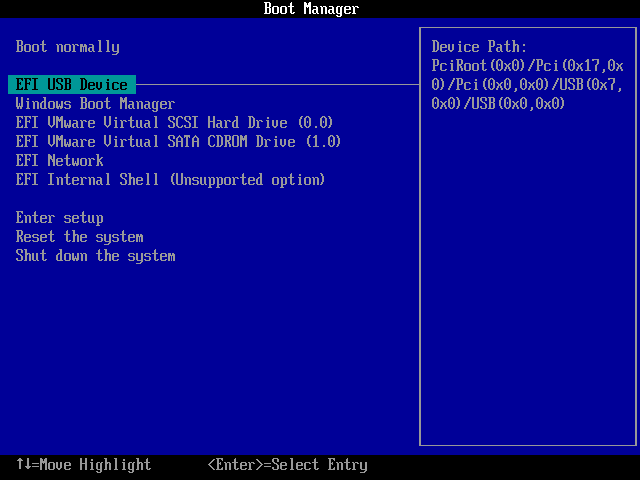 Step 10. Windows 10 21H2 normal installation starts up and you have to complete all the installation steps. After that, you can install programs, copy files, etc.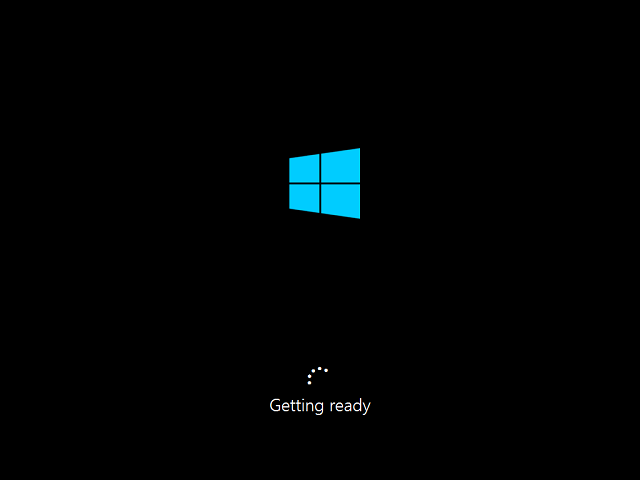 Hasleo WinToUSB is a professional Windows 10 To Go creation tool which can help you create portable Windows 10 with Windows 10 21H2 easily. With the help of Hasleo WinToUSB, you can easily create not only Windows 10 To Go, but also create Windows 11 To Go, Windows 8 To Go and Windows 7 To Go through similar steps.