This tutorial will show you how to create a Windows To Go USB drive that supports Mac computers, then you can run Windows to go on a Mac computer to complete the work that must be done under Windows.
I hav a late 2016 MacBook Pro with MacOS and Windows 10 Pro dual systems installed on it, so far so good, but I only use Windows 10 Pro to play some games that can't be run on MacOS. Now I'm trying to get rid of my Bootcamp installation, because of low space on main SSD drive. I noticed that WinToUSB can install Windows to a USB drive, can the Windows USB drive created by WinToUSB be started from a Mac computer? How do I make it? Could let me know step by step for using your tool Hasleo WinToUSB.
Yes, the Windows To Go USB drive created by WinToUSB can be started from a Mac computer, but not all Windows To Go USB drive created by WinToUSB can be started from a Mac computer. So we need to understand what causes the WinToUSB USB drive to fail to boot and then we can effectively avoid it.
1. Now All of Apple's computers use Intel CPUs, and Apple selected the Intel-designed Extensible Firmware Interface (EFI) as its BIOS firmware to replace the Open firmware used on the PowerPC architecture. So in order to boot a Mac computer, we have to make sure that the Windows To Go USB drive that we created supports EFI booting.
2. For booting Windows on an (U)EFI-based computer, the Windows version must match the PC architecture, that means a 64-bit (U)EFI-based computer can only boot 64-bit versions of Windows and a 32-bit (U)EFI-based computer can only boot 32-bit versions of Windows. Mac computers use 64-bit Intel CPUs, so make sure you use 64-bit Windows to create Windows To Go.
Tutorial to create and run Windows To Go on a Mac computer with WinToUSB.
Step 1. Download Mac Boot Camp Support Software for Windows To Go, please refer to:How to download Boot Camp Windows Support Software for Windows To Go?
Step 2. Copy the Boot Camp Support Software downloaded in the previous step to the computer with an installed copy of WinToUSB, and connect the external hard drive to the computer, run Hasleo WinToUSB and then click the "Windows To Go USB".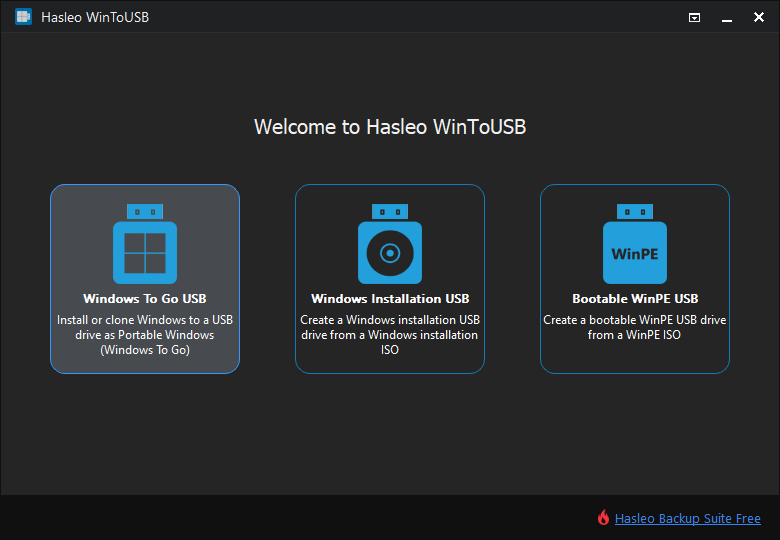 Step 3. Click "Select installation source", then click "Browse image file" and select the Windows Server installation ISO file from the open dialog box as installation source, or choose a CD/DVD drive with a Windows Server installation DVD inserted as the installation source.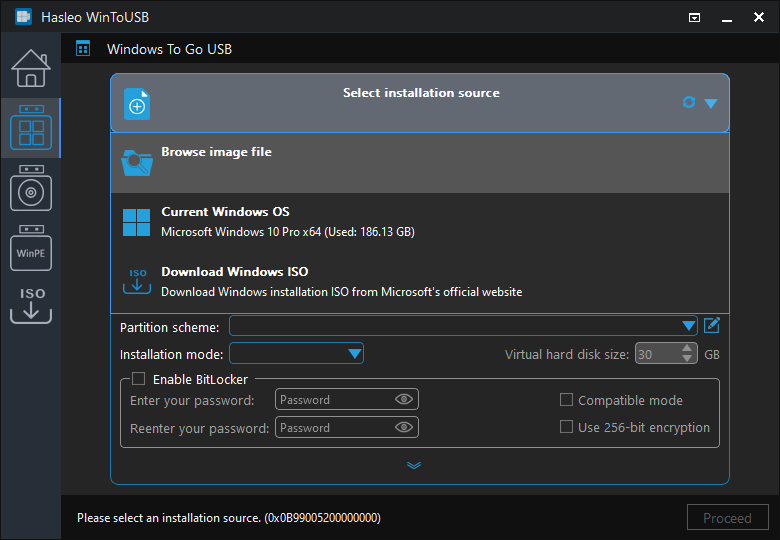 Step 4. Hasleo WinToUSB scans for and lists installable operating systems, select the edition of Windows you want to install.
Step 5. Click "Select destination drive" and select the destination drive from the pop-up drive list. If the drive is not correctly recognized by Hasleo WinToUSB, you can click the

button for the program to recognize the drive.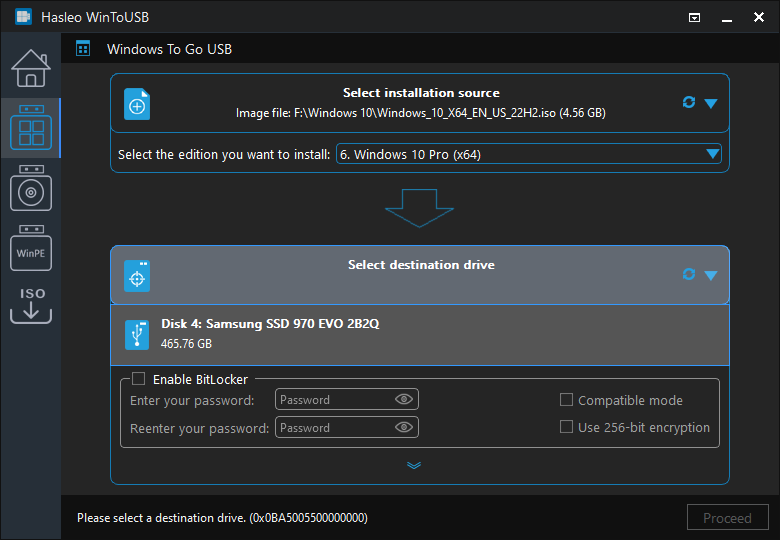 Step 6. Choose the partition scheme and installation mode you want to use, specify the directory of the additional drivers as the save path of Boot Camp Support Software, and enable BitLocker to encrypt the Windows To Go external hard drive if you want, then click "Proceed".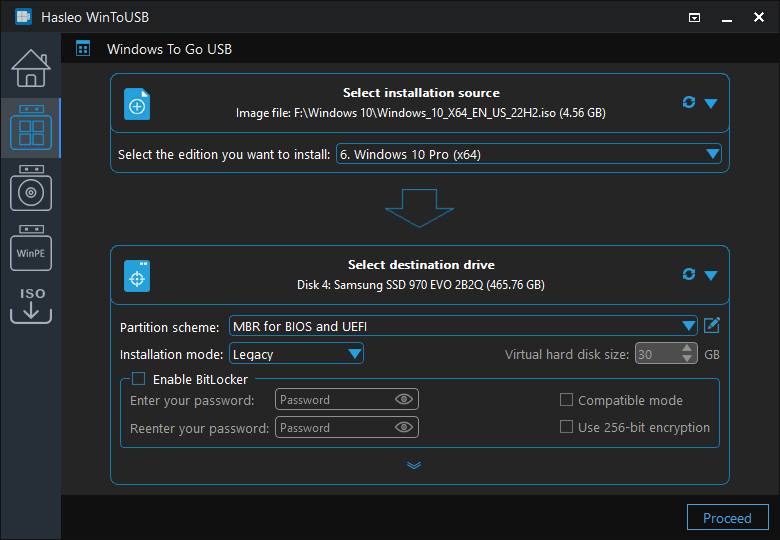 * Tips:
Mac computers are (U)EFI-based computers, so you should select the "GPT for UEFI" or "MBR For BIOS and UEFI" partitioning scheme, or use a custom partition scheme that supports UEFI booting.
For more detailed information about "Partition scheme", "Installation mode" and "Enable BitLocker", please refer to: How to clone existing Windows to USB drive as a Windows To Go Workspace?
Step 7. After clicking "Proceed", a pop-up will appear asking you if you want to format it to continue, click "Yes" if you are sure.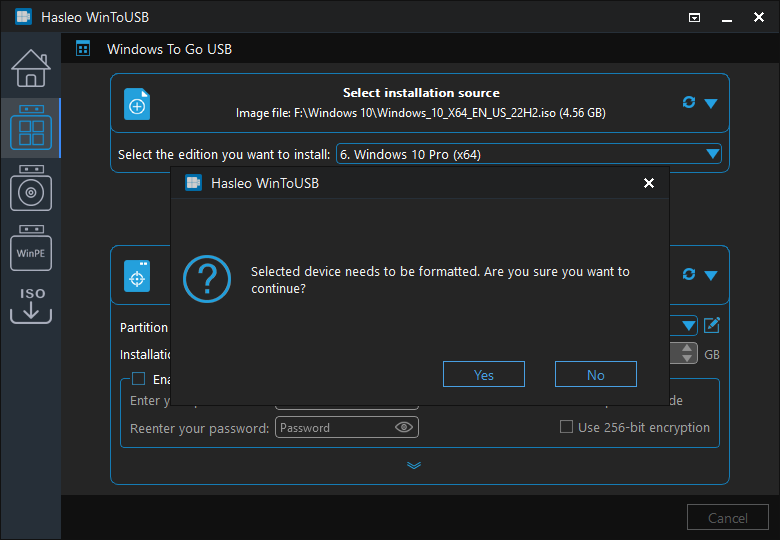 Step 8. After clicking "Yes", WinToUSB begins installing Windows to the destination drive.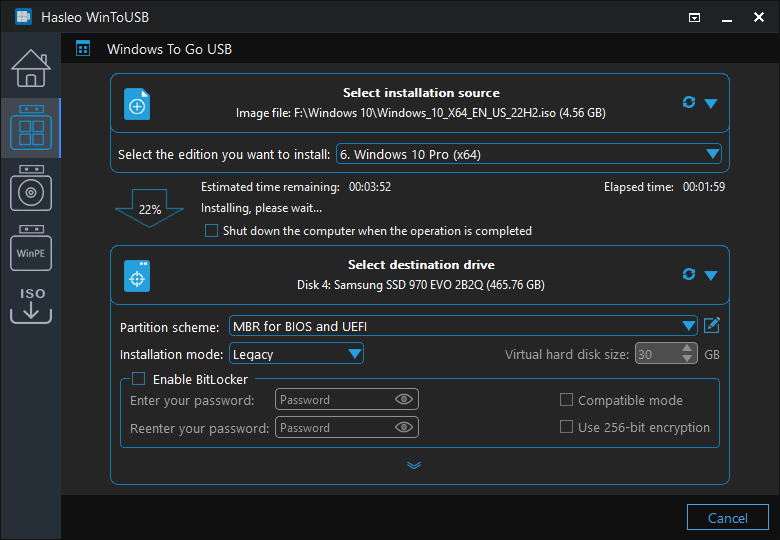 Step 9. It takes some time to install. After installation, safely unplug the USB drive from the Windows computer, then connect the USB drive to the Mac computer you want to boot. If you have only the USB-C interface on your Mac computer, you will need to use the USB-C to USB Adapter to connect the USB device to your Mac computer.
Step 10. Power on the Mac computer, and then immediately hold down the Option key, then select the USB drive and press Return to boot from it.
Step 11. Windows normal installation starts up and you have to complete all the installation steps. If the Mac's own keyboard or touchpad does not work, you have to use an external USB keyboard or mouse to complete the installation. After that, you can install Windows Support Software (Boot Camp drivers), programs, copy files, etc.
Conclusion
Now you know how to create and run Windows To Go on a Mac computer with the best free Windows To Go Creator
WinToUSB
, you can also use WinToUSB to
clone existing Windows to a USB drive
and then boot Windows from that USB drive on a Mac computer.