BYOD is short for bring your own device. BYOD is an IT policy where employees are allowed or encouraged to bring personally owned devices (laptops, tablets, and smart phones) to their workplace, and to use those devices to access enterprise data and systems. The advantage of using BYOD is that it can increase productivity, improve employee satisfaction and reduce costs, so BYOD become more and more popular now. In order to satisfy this requirement, Microsoft developed a new feature called Windows To Go (WTG) since Windows 8. With this feature, you can install and run Windows on an external hard drive. Unfortunately, this feature is only available in the enterprise/education edition of Windows 8 and earlier versions of Windows 10, as Microsoft announced on May 25, 2019 that it will no longer develop Windows To Go.
We have mentioned above that we can only create Windows To Go with earlier versions of Windows 10 enterprise or education edition, so is it possible to create Windows To Go with newer versions of Windows 10 or even any edition of Windows 10? The answer is yes, you can use a third-party Windows To Go creation tool. Here we recommend that you try Hasleo WinToUSB.
Hasleo software released the world's first third-party Windows To Go creation software Hasleo WinToUSB in 2014, with this software, you can easily create a portable Windows on a USB drive, even you don't have an enterprise or education edition of Windows. Hasleo WinToUSB allows you to install or clone Windows 10 to a USB drive as Windows To Go, below we'll detail how to use it to install Windows 10 to an external drive as Windows To Go.
Tutorial to install Windows 10 onto an external hard drive as portable Windows 10 with Hasleo WinToUSB.
Step 1. Connect the external hard drive to the computer, download, install and run Hasleo WinToUSB and then click "Windows To Go USB".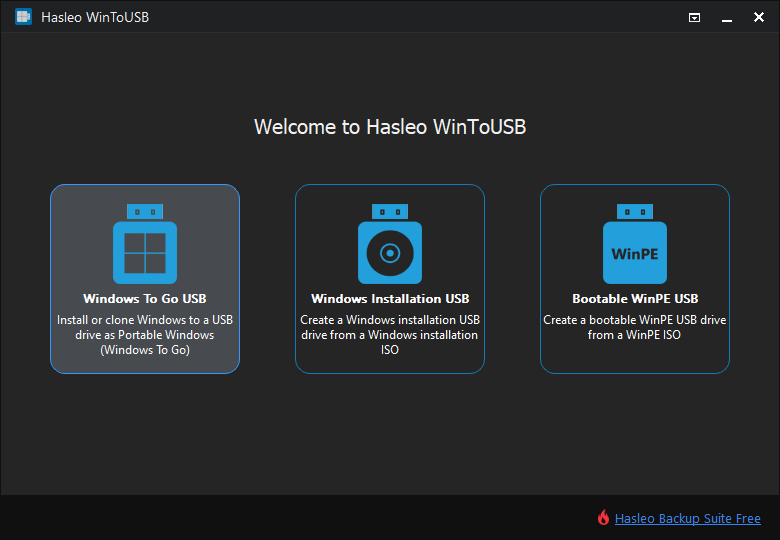 Step 2. Click "Select installation source", then click "Browse image file" and select the Windows installation ISO file from the open dialog box as installation source, or choose a CD/DVD drive with a Windows installation DVD inserted as the installation source.
* Tips: If you don't have a Windows 10 installation ISO, please download Windows 10 installation ISO first.
Step 3. Hasleo WinToUSB scans for and lists installable operating systems, select the edition of Windows you want to install.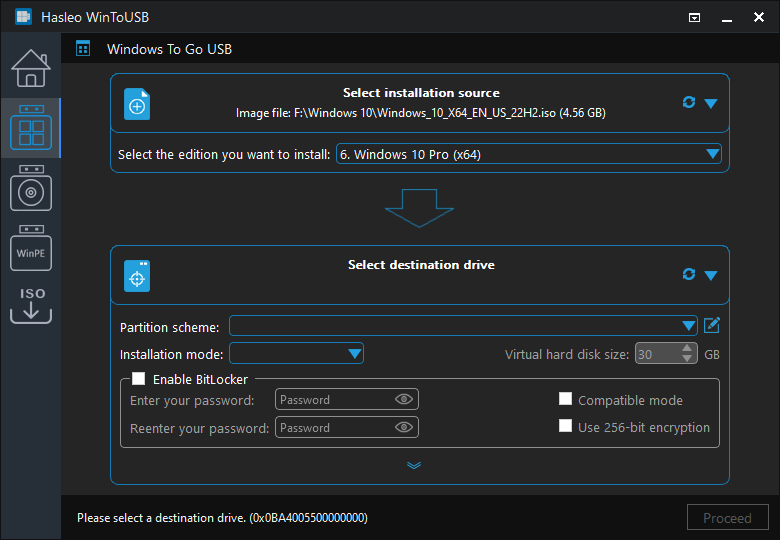 Step 4. Click "Select destination drive" and select the destination drive from the pop-up drive list. If the drive is not correctly recognized by Hasleo WinToUSB, you can click the

button for the program to recognize the drive.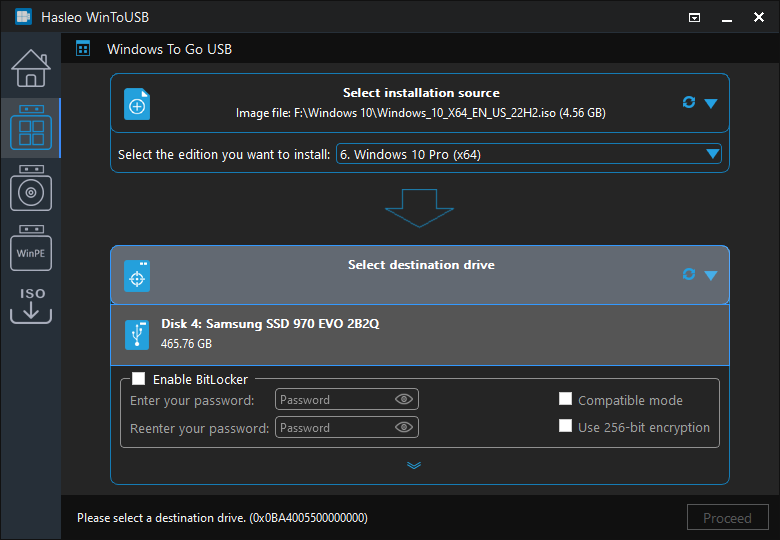 Step 5. Choose the partition scheme and installation mode you want to use, and you can specify additional drivers or enable BitLocker to encrypt the Windows To Go USB drive according to your needs, then click "Proceed".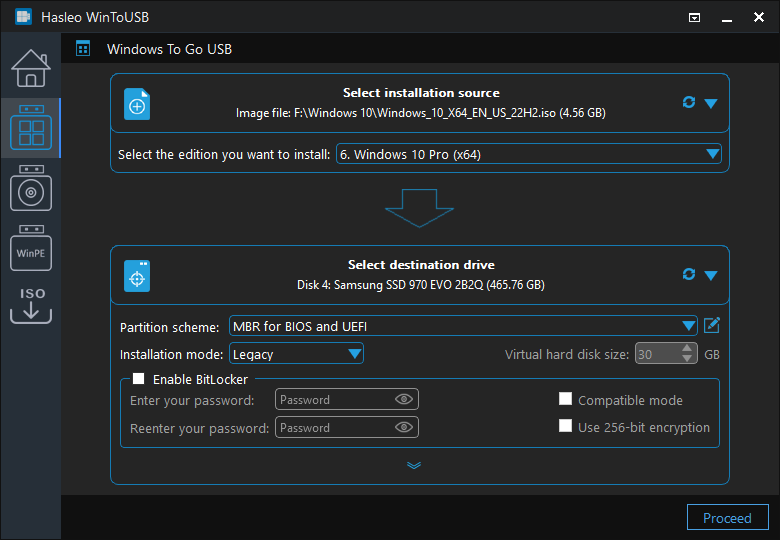 * Tips:
For more detailed information about "Partition scheme", "Installation mode" and "Enable BitLocker", please refer to: How to create portable Windows 11/10/8/7 from an ISO, WIM, ESD, SWM or VHD(X) file?
If you choose "Keep the existing partition scheme", you need to manually prepare the partitions on the external hard drive before this step, and here is the user guide on how to manually prepare partitions for Windows To Go.
Step 6. After clicking "Proceed", a pop-up will appear asking you if you want to format it to continue, click "Yes" if you are sure.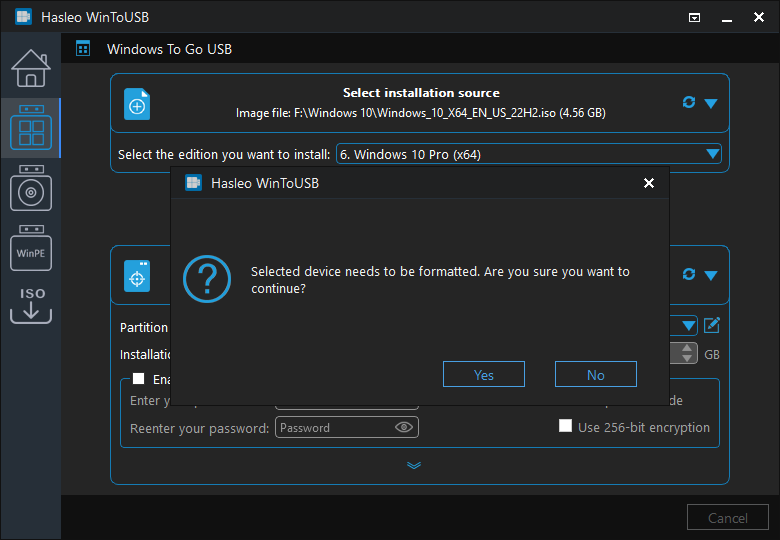 Step 7. After clicking "Yes", WinToUSB begins installing Windows to the destination drive.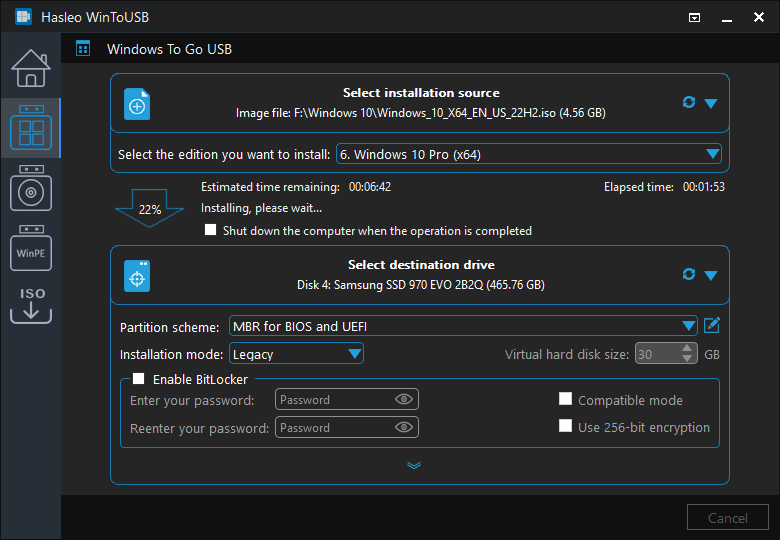 Step 8. It takes some time to install. After installation restart the computer and change BIOS to boot from the external hard drive.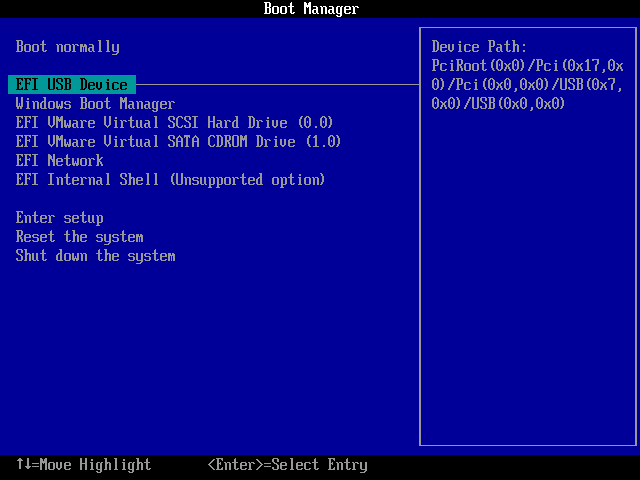 Step 9. Windows 10 normal installation starts up and you have to complete all the installation steps. After that, you can install programs, copy files, etc.
Summary
Follow these simple steps, you can install Windows 10 to an external hard drive as portable Windows 10 easily with the help of Hasleo WinToUSB. In fact with the help of Hasleo WinToUSB you can also clone Windows 10 to a USB drive as Windows To Go.